Best to Worst:
Jermaine's speaking voice. It's higher than mine! And he has a lisp! Funniest criminal ever. Ba Bye.
Joshua!! He was amazing from the minute he sucked the brain out of the crawfish, to calling his Mama "maam", to wanting to sing in church but being too misbehaved, to Oh. My. God. When a Man Loves a Woman just turned me into a big pile of mush. Were those tears in his eyes?!? There were in my eyes, for sure. I'm with JLo, "I can't stop saying Wow".
Hollie - I don't know why I doubted a girl that might weigh all of 80 lbs might not belt Celine's Power of Love, and we're all wondering where in the hell she keeps that gumption, but she's ridiculous. And I'll just say it, she's better than Jessica. Plus, how adorable was it when her Dad broke down and then blamed the sun?
Elise - Even Will.I.Am wanted a smile out of her. Look, Elise, I love your voice. I think you're unique and awesome. I love your song choice of Lets Stay Together, and you were great. The attitude thing might not stand in the way of an actual career in music, but when you're pining for the votes of American tweens, you need to drop it.
Skylar Laine - Was a headbanging baby? Awesome! This wasn't my favorite performance of hers, but I love that she stuck to her country guns and opted for Bonnie Raitt instead of Coolio (Coolio, Will.I.Am? Really?) She's adorable, her parents are adorable. Now, Skylar, get back in my pocket where you belong.
Here's a Tie between Heejun and Erika -
I give Erika the edge because she, as a baby, reminds me (as Auntee hinted) of another LOUD toddler I know and love - Heaven is a beautiful song. Is it weird that I totally understood and agreed with everything Stephen Tyler said? She put in too much. Too many runs, too much vibrato, too many extra notes. She didn't butcher it, by any means, but I think she's in trouble this week.
Heejun's mother is awesome - "I think he gets his humor from me". They seem like the kind of family that I'd like to hang out with, because they're just sort of silly and fun. Heejun's Right Here Waiting fell right into his pattern of singing corny 80's ballads. (Note: I find it interesting that he mentioned how his accent is a struggle, and I wonder if it's gotten more and more noticeable to others, like it has for me?)
Jessica Sanchez - Was advised by her stage parents to do "up beat" as to not fall into the "ballad trap" (which leads to untimely demises ala Pia) She claims the song list was tiny (I doubt her parents even let her see the list), and the judges poo-pooed that later in the show by noting there's probably 20,000 songs/year to choose from.
Migraine - She didn't slaughter One Sweet Day, but I owned that casette tape, played it on repeat, wanted to BE Mariah, and wanted to MARRY Boys II Men, and she didn't do it justice either. Plus, how many times do we have to be reminded that her Dad was a pitcher? Yawn.
Phillip Phillips - Was apparently named that on purpose. I thought maybe he'd been adopted or something. Mean. I guess his stones explain why it looks like he's in pain when he's singing? Hard to Handle, was in deed.
Colton Dixson - Everybody else is all over this kid's nuts (even Daughtry, apparently. shame on you, Daughtry.) He's down this low for 2 reasons: (1) his song sucked, and (2) BABY OF THE WEEK?!? Not only did he steal his sister's Idol audition, he probably stole her Idol spot, he was the star pitcher, and he was born baby of the week. His poor sister can never compete with baby of the week.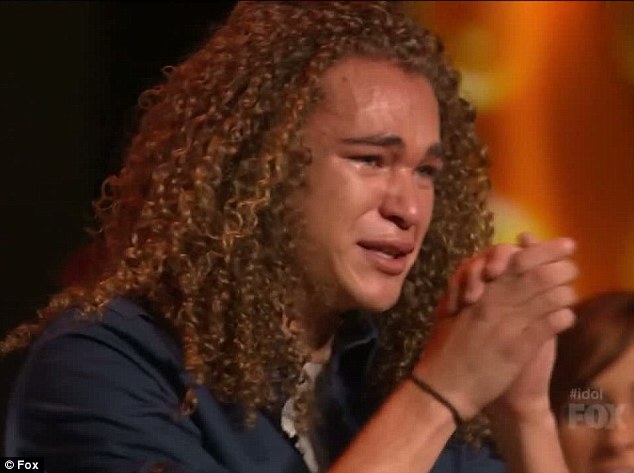 Hair - I actually think Endless Love was a better choice than Lion King's Can You Feel the Love. But both would've been filled with lots of annoying vibrato and hair tossing. Plus, the suit alone put him at the bottom.
Bottom 3: Shannon, Erika, and Elise
Going home: Erika